Handjobs Media is a promotions and marketing specialist serving the needs of the fetish/BDSM industry and community.
We are a strategic thinking, action-centred agency with an exceptional understanding of the market and of the issues facing small and medium sized business.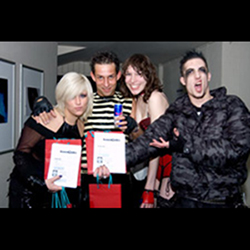 Our Service
We can reach your core target market and 'talk' to them in their own language at the most relevant time. Put simply, we take a very personal approach to our promotional and marketing activities, which include targeted hand-to-hand flyer pack distribution, a hand-packing flyer service, individual promotional campaigns, bespoke marketing support services, consultancy and advice.
We are based in Camden Town, NW1 – close to all the action in Central London – and our team includes quality-controlled flyer-packers, logistics coordinators, a secure storage facility, and our club and event distribution teams.
We are proud to represent a wide range of clients including some of the best-known names in fetish and fashion, providing high quality products and services, both locally and internationally.
To find out more about advertising or sponsorship opportunities within this highly- targeted marketplace, to request our Rates and Services PDF, or for an informal chat about ways in which we can help your business, please contact us.